Shahbaz Khan, AAP's 'frustrated poor youth of Gujarat' turns out to be an actor ; Netizens dig out and share his details
August 17, 2022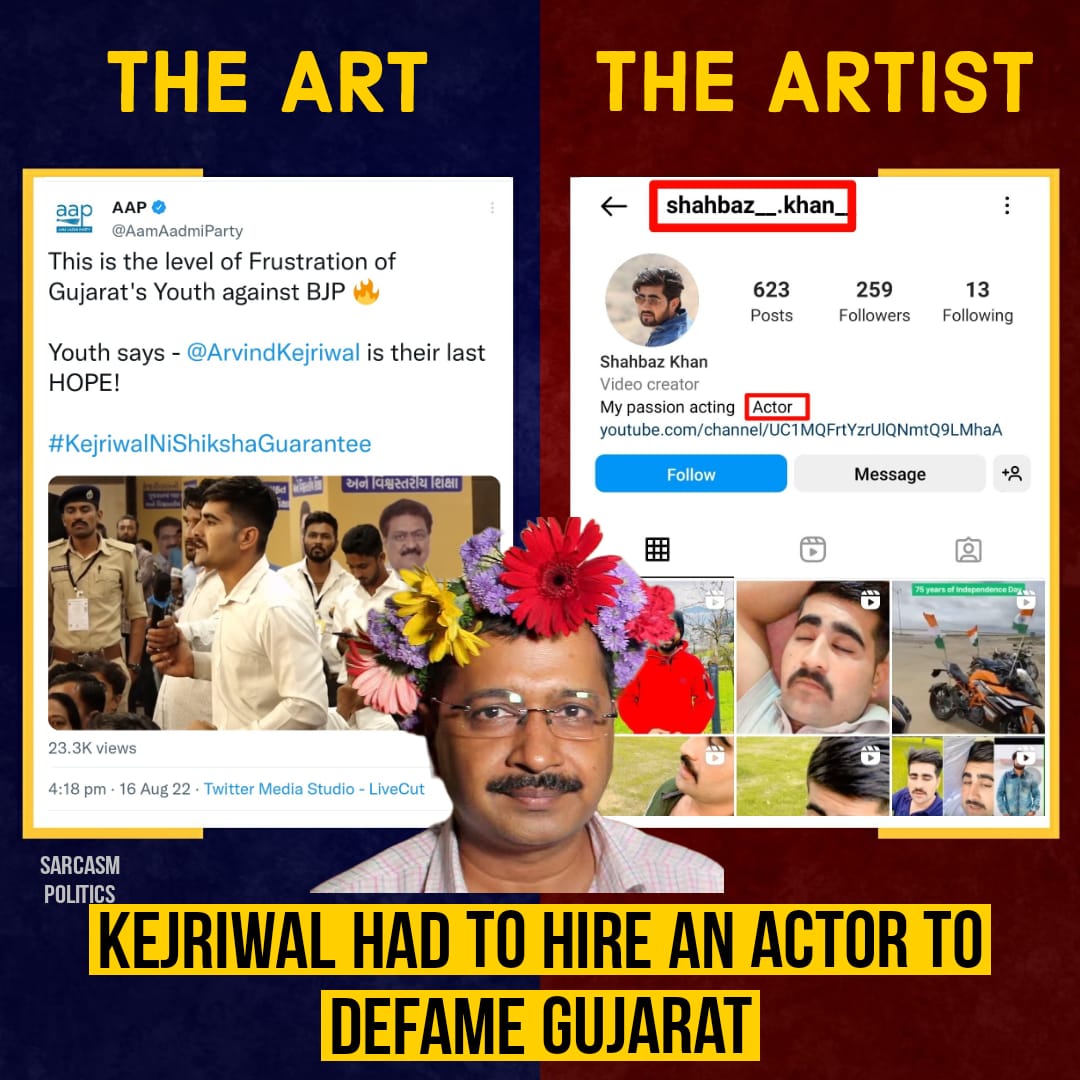 Gandhinagar: Shahbaz Khan, a person who during an event in Bhuj, called Arvind Kejriwal the last hope, turned out to be an actor. The question is now being asked by a lot of netizens on social media platforms, whether Kejriwal and his party "roped in the actor" to churn out "scripted lies"!
Aam Aadmi Party (AAP) chief and Delhi Chief Minister Arind Kejriwal was in Kutch district of Gujarat on Tuesday for an address and interaction programme which was held at the Seven Sky hotel. During the interaction, a person named Shahbaz Khan stood up and claimed he was 22 years old and had left education after class 7th. He claimed that the Modi government had done nothing and kejriwal was the last hope. He claimed he is a poor person.
The Aam Aadmi Party's twitter handle highlighted Shahbaz Khan's remarks and stated that this was the level of frustration of Gujarat's youth against BJP. A lot of AAP supporters also circulated the clip.
However when his online presence was explored, Shahbaz Khan actually turned out to be an actor, as per his Instagram profile. Contrary to his claim that he's a poor person, the netizens have discovered number of pictures and videos in which Shahbaz Khan can be seen travelling in plane, playing with cash, having hookah and more. The netizens in various tweets are asking whether Kejriwal has started roping in actors to circulate lies in favor of AAP? There are a lot of memes circulating as well on social media platforms after this expose.
गुजरात का ग़रीब भी #iPhone और 15 लाख की कार लेके घूमता है @ArvindKejriwal 😂😂 ग़लत जगह (राज्य) भिड़ गया .. २ है wo भी जाएगा .. याद रखना 👍😂😂 pic.twitter.com/JAG4dlxPah

— Milan Vyas (@MilanVy69109155) August 16, 2022
This Program was in Seven Sky Hotel of Bhuj

And This 'Youth' who calls him self actor most probably works in the same hotel

He is saying "Duty chhod ke aya hun" 😂 pic.twitter.com/Y6niyLXaQf

— Prakash (@Gujju_Er) August 16, 2022
अब 'आप पार्टी' अभिनेताओं से Acting करवाने लगे है, कितना झूठ बाटोगे @ArvindKejriwal?pic.twitter.com/s19cLhTlwJ

— ADV. ASHUTOSH J. DUBEY 🇮🇳 (@AdvAshutoshBJP) August 16, 2022
कुर्सी के लिए केजरीवाल अपने धर्म को , अपने बच्चों को , इंसानियत को कुछ भी बेच सकता है।

वैसे एक्टिंग में तो शाहबाज़ @ArvindKejriwal को भी पीछे छोड़ रहा है pic.twitter.com/EeRbATqNAA

— Parvesh Sahib Singh (@p_sahibsingh) August 16, 2022
केजरीवाल का बेचारा गरीब एक्टर
I-Phone से काम चलाता है
GYM में झाड़ू पोछा करता है
भूख लगने पर हुक्का पीकर रह जाता है
घर नहीं है, नींद आने पर गाडी में ही सो जाता है 🤣 https://t.co/wMZPXiw7P3 pic.twitter.com/5FEXSlHkzU

— Social Tamasha (@SocialTamasha) August 16, 2022
गजब की एक्टिंग की है भाई ने
1:02 Sec-मैं नौकरी पाने के लिए ट्रेनिंग कर रहा हूँ
1:34 Sec – मैं नौकरी कर रहा हूँ,ड्यूटी पर हूँ
दूसरी गौर करने वाली बात- ये खुद को 22 साल का और गरीब बता रहा है
जबकि देखने से ना तो ये 22 साल का लगता है और न ही गरीब

ओवर एक्टिंग का पैसा काटो रे इसका🤣 https://t.co/wMZPXiw7P3

— Social Tamasha (@SocialTamasha) August 16, 2022