65.30 % voter turnout in phase-2 of Gujarat polls 2022 : ECI
December 06, 2022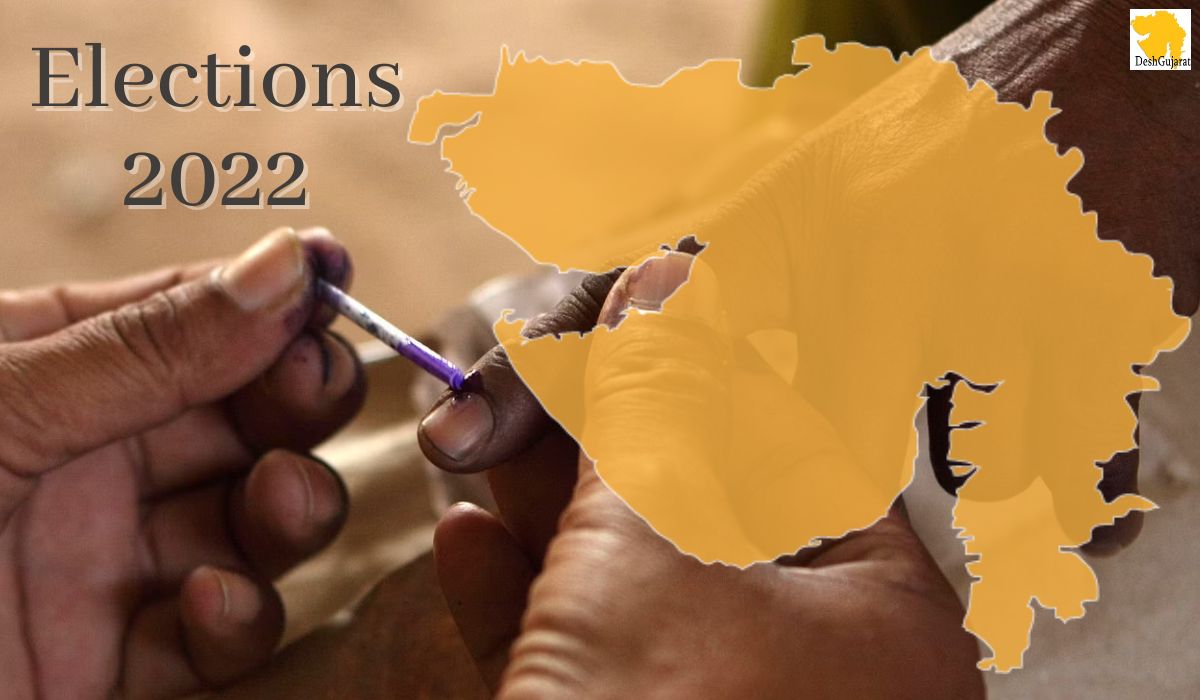 Gandhinagar:  65.30 % voter turnout was recorded in the second phase of Gujarat assembly elections 2022, Election commission of India (ECI) announced today.
Polling took place yesterday in 14 districts of North and Central Gujarat region in state and as the data kept updating the final voter turnout percentage at 7 PM today stands at 65.30%
Banaskantha district recorded the highest voter turnout of 72.49 %, followed by Sabarkantha with 71.43 %. These are the only two district where the turnout crossed 70% mark. Ahmedabad recorded the lowest voter turnout with only 59.05% electors exercising their right to vote.
General Election to the Gujarat Legislative Assembly – 2017
Voter Turnout (Phase-2) District wise
General Election to the Gujarat Legislative Assembly – 2022
Voter Turnout (Phase-2) District wise
Sr.
No.
Name of District
No. of Electors
Voter Turnout
Percentage
No. of Electors
Voter Turnout
Percentage
Male
Female
Third Gender
Total
Male
Female
Third Gender
Total
Male
Female
Third Gender
Total
Male
Female
Third Gender
Total
Male
Female
Third Gender
Total
Male
Female
Third Gender
Total
1
Banaskantha
1122248
1021878
13
2144139
872231
741335
2
1613568
77.72
72.55
15.38
75.25
1293100
1197814
12
2490926
975789
829869
4
1805662
75.46
69.28
33.33
72.49
2
Patan
534445
493917
6
1028368
377719
330161
2
707882
70.67
66.85
33.33
68.84
604580
567822
26
1172428
413249
361300
17
774566
68.35
63.63
65.38
66.07
3
Mahesana
823016
761600
29
1584645
607483
528531
6
1136020
73.81
69.40
20.69
71.69
894373
835460
43
1729876
620866
528019
6
1148891
69.42
63.20
13.95
66.41
4
Sabarkantha
506441
478470
22
984933
389803
348633
16
738452
76.97
72.86
72.73
74.97
568007
541991
33
1110031
421948
370889
17
792854
74.29
68.43
51.52
71.43
5
Arvalli
383281
364772
23
748076
272870
245527
14
518411
71.19
67.31
60.87
69.30
422587
407937
23
830547
295163
265867
6
561036
69.85
65.17
26.09
67.55
6
Gandhinagar
604875
570694
25
1175594
446697
392564
9
839270
73.85
68.79
36.00
71.39
679831
646959
48
1326838
477141
410435
12
887588
70.19
63.44
25.00
66.89
7
Ahmedabad
2762077
2512883
102
5275062
1893402
1599096
30
3492528
68.55
63.64
29.41
66.21
3123306
2881224
209
6004739
1930765
1614879
47
3545691
61.82
56.05
22.49
59.05
8
Anand
834169
774131
64
1608364
615613
530430
36
1146079
73.80
68.52
56.25
71.26
904192
861857
128
1766177
644834
563460
53
1208347
71.32
65.38
41.41
68.42
9
Kheda
746098
701604
58
1447760
557022
476929
32
1033983
74.66
67.98
55.17
71.42
816466
785274
89
1601829
589325
508658
31
1098014
72.18
64.77
34.83
68.55
10
Mahisagar
375611
352365
7
727983
251497
225318
4
476819
66.96
63.94
57.14
65.50
416773
398148
16
814937
265274
237438
3
502715
63.65
59.64
18.75
61.69
11
Panchmahal
602964
564851
4
1167819
425176
393773
1
818950
70.51
69.71
25.00
70.13
665122
634900
19
1300041
459669
430120
11
889800
69.11
67.75
57.89
68.44
12
Dahod
658740
654884
9
1313633
439560
430187
0
869747
66.73
65.69
0.00
66.21
785746
799241
16
1585003
475561
476532
0
952093
60.52
59.62
0.00
60.07
13
Vadodara
1212589
1137612
88
2350289
895048
798921
55
1694024
73.81
70.23
62.50
72.08
1333251
1272996
226
2606473
904879
811017
74
1715970
67.87
63.71
32.74
65.83
14
Chhota
Udepur
380881
359316
5
740202
269114
244328
2
513444
70.66
68.00
40.00
69.37
419167
399712
6
818885
284784
260093
2
544879
67.94
65.07
33.33
66.54
Total of State :-
11547435
10748977
455
22296867
8313235
7285733
209
15599177
71.99
67.78
45.93
69.96
12926501
12231335
894
25158730
8759247
7668576
283
16428106
67.76
62.70
31.66
65.30
DeshGujarat