GIFT IFSC in Union Budget 2023
February 01, 2023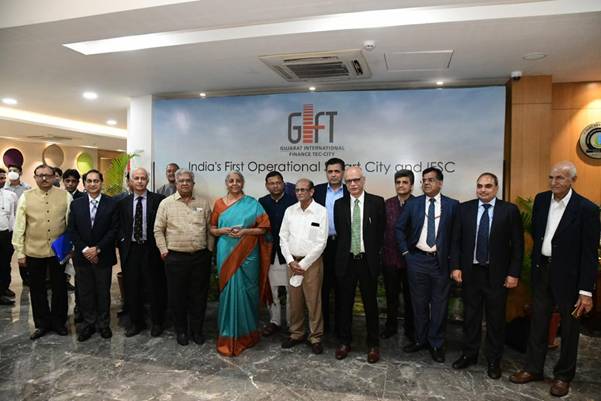 Gandhinagar: Union Finance Minister Nirmala Sitharaman, on Wednesday, in her Budget speech, made some important announcements to enhance business activities in GIFT IFSC. The measures that will be taken in this regard are as follows: 
~ Delegating powers under the SEZ Act to IFSCA to avoid dual regulation,

~ Setting up a single window IT system for registration and approval from IFSCA, SEZ authorities, GSTN, RBI, SEBI and IRDAI, 

~ Permitting acquisition financing by IFSC Banking Units of foreign banks, 

~ Establishing a subsidiary of EXIM Bank for trade

re-financing,

~ Amending IFSCA Act for statutory provisions for arbitration, ancillary services, and avoiding dual regulation under SEZ Act, and

~ Recognizing offshore derivative instruments as valid contracts. 
"For countries looking for digital continuity solutions, we will facilitate setting up of their Data Embassies in GIFT IFSC," said the Finance Minister during her speech. 
The FM in Finance Bill also proposed an Extension of the period of tax benefits to funds relocating to IFSC, GIFT City till 31.03.2025.
As an incentive to IFSC, "Relocation of funds to IFSC has certain tax exemptions, if the relocation is before 31.03.2023. This date is proposed to be extended to 31.03.2025. Further, any distributed income from the offshore derivative instruments entered into with an offshore banking unit is also proposed to be exempted subject to certain conditions."
"The Union Budget clearly emphasises the growth aspirations of our nation and the vital role of GIFT City in India's growth story. The policy support laid out by the Union government will certainly act as a catalyst in expediting the growth of GIFT City thus making it a vibrant global financial hub for domestic and international entities. The far-reaching measures announced in the budget will go a long way in strengthening the ease of doing business in IFSC at GIFT City. The establishment of an EXIM Bank subsidiary would encourage emerging sectors such as aircraft & ship financing activities in GIFT City. The setting-up of data embassies at GIFT City would facilitate digital continuity solutions for countries seeking such solutions," said Tapan Ray, MD & Group CEO, GIFT City. DeshGujarat