Gujarat Budget 2023; FM Kanubhai Desai presents State Budget 2023-24
February 24, 2023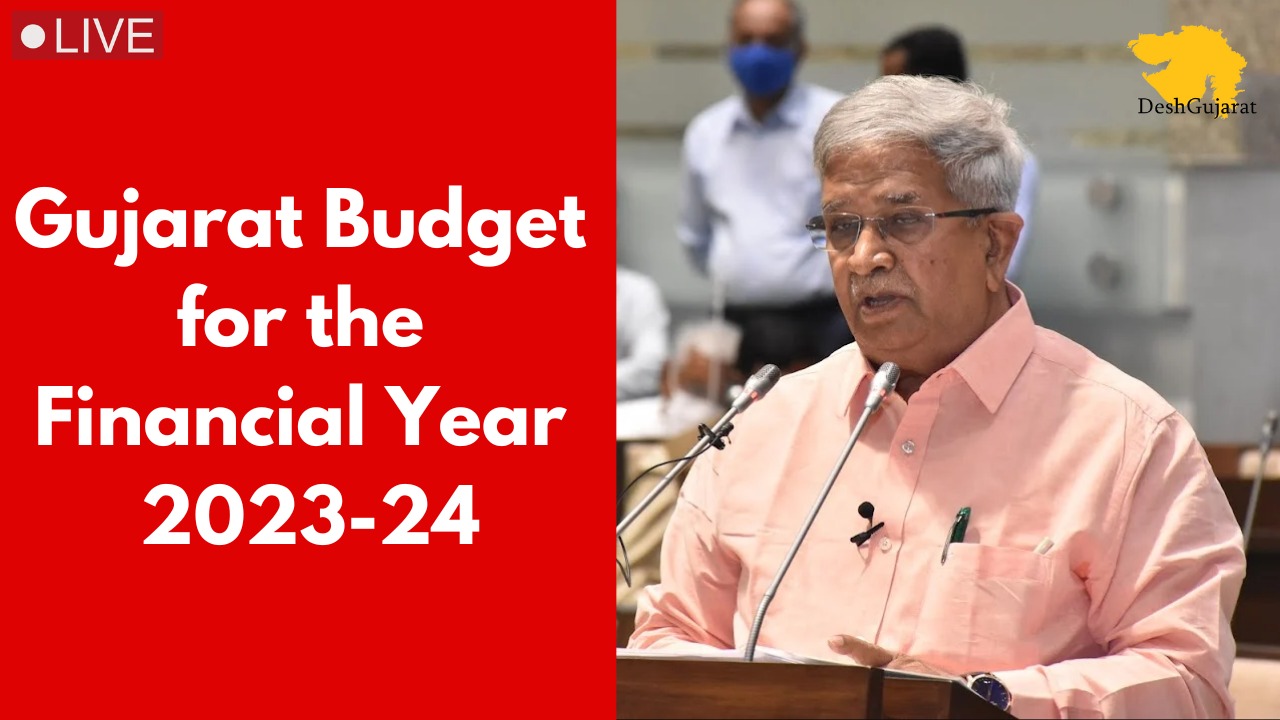 Highlights of Budget 2023
-No new taxes imposed. Presently effective taxes remain unchanged
– A Women's battalion to be created in State Reserve Police (SRP) force
– Rs 88 crore allocation for Pandit Deendayal Antyoday Yojana
– Rs 215 crore allocation for developing airports and airstrips
– Ahmedabad Metro Phase-II to get Rs 18,000 crore
– Rs 43,651 crore allocation for Education Sector
– Student Startup Innovation Policy 2.0 to be announced
– Rs 297 crore allocated for Bhavnagar Port Traffic
– Ahmedabad-Mehsana Palanpur road to be made 6-lane at Rs 160 cr of budgetary outlay
– Rs 24 cr allocation for purchase of 50 more electric busses
– Rs 217 cr allocation for boosting EV ecosystem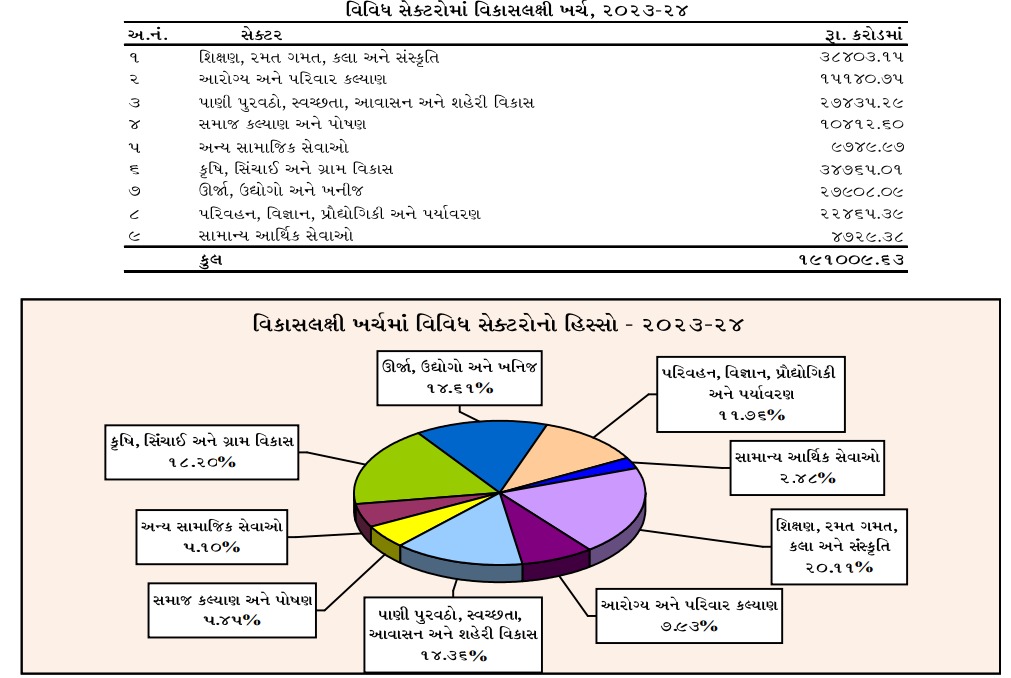 – 2 cooking gas cylinders free of cost every year to each of 39 lakh families under Ujjwala Yojana
– Rs. 300 crore for box conversion of KhariCut canal
– Rs. 150 crore for Sabarmati Riverfront near GIFT City
– Vijbill Protsahan Nidhi will be established to facilitate municipalities to pay up electricity bills, for this a provision of Rs 100 crore
– 10 new Rickshaw Schools to come up in Gujarat
– To popularise use of millets, Rs 30 crore allocated for various initiatives
– Rs 500 cr for free refilling of LPG Cylinders twice a year
– Rs 250 cr budgetary allocation for development & modernisation of Science City
– Rs 2,808 cr allocation for Mukhya Mantri Gram Sadak Yojana
– Rs. 905 crore for Surat Metro rail project
– Rs. 1570 crore provision for day time agricultural power supply to farmers under Kisan Suryoday Yojana
– Rs. 152 crore provision for Solar Powered agriculture pumps under PM KUSUM yojana
– Shri Ann (Millets) like Bajri, Juvar, Nagli to be purchased through public distribution system by Government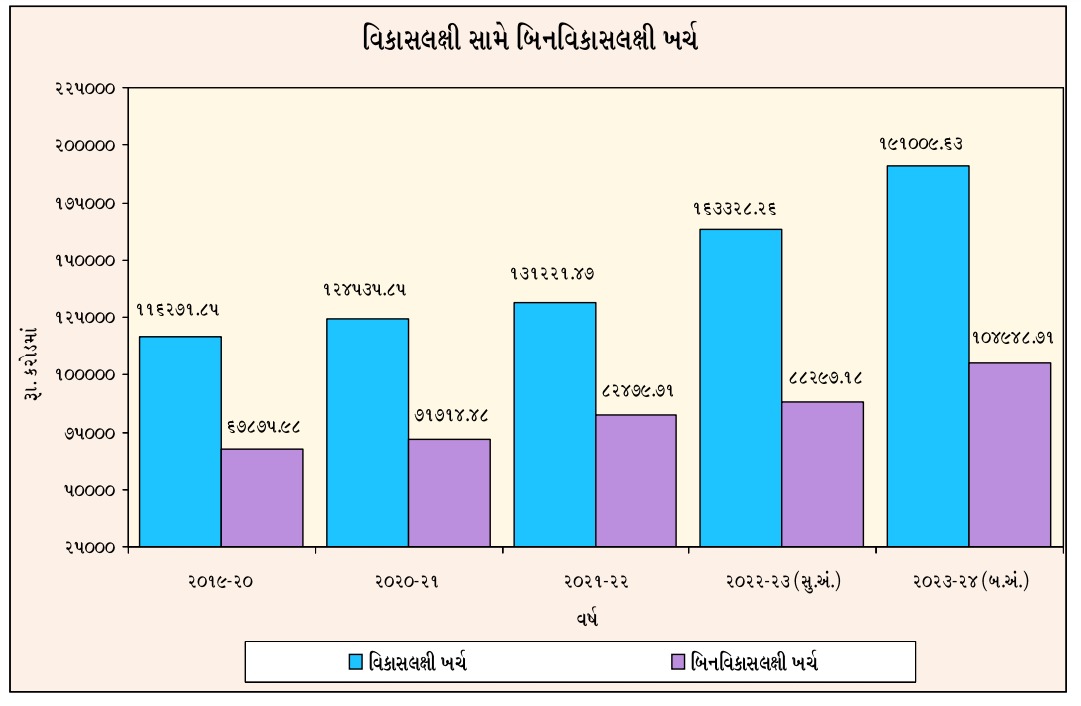 – Rs 15,182 crore outlay for #healthcare sector
– Rs 55 crore allocated to expand ambulance network in Gujarat
– Five new nursing colleges to come up in Gujarat
– 400 Gyan Setu Schools to be set up in Gujarat. Rs 64 crore to be allotted.
– SG Highway to be made 6-lane
– Ahmedabad – Bagodara Highway to be also made 6-lane
– Rs 8,738 cr allocation for petrochemical sectors
– Rs 5 cr outlay for cluster-based skill developments.
– Dr Ambedkar Bhavan to come up in four regions at Rs 5 crore of budgetary outlay
– Rs 3,514 crore allocation for ports, logistics sector
– Rs 1,340 crore budgetary outlay for Pension Scheme
– Rs. 20,000 school vouchers to bright RTE students for their school education after class – 8.
– Total provision of Rs. 50 crore for that. Five ITIs to be converted to Mega ITIs.
– Highest Rs. 43,651 crore provision for human resources development in annual budget
– Rs 58 cr outlay for Divyang Pension Yojana
– Medical colleges to begin under PPP model
– Rs 3,109 cr outlay for Mission School of Excellence
– Rs 8,086 cr outlay for Urban infra development
– Gujarat finance minister Kanubhai Desai presented Rs 3.01 lakh crore budgetary outlay for fiscal 2023-24. The budget outlay is 23.38% higher than last year.
– Rs 10,000 crore outlay for heritage, eco-tourism development in Gujarat
– Rs 2 lakh crore outlay for Green Growth initiatives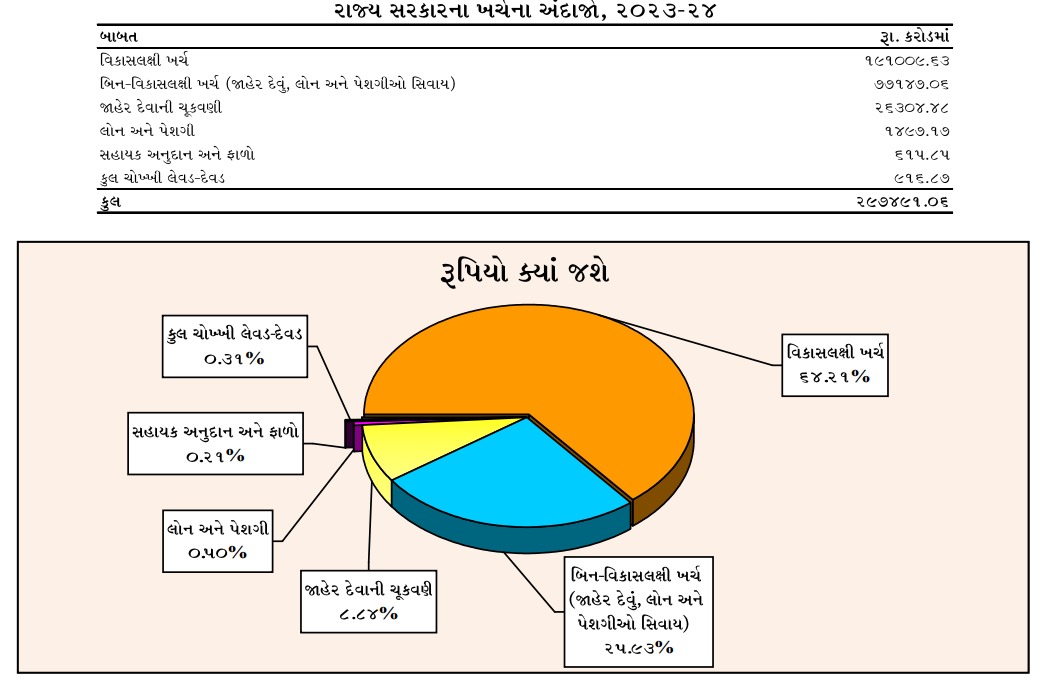 – Forest cover in Gujarat increased by an additional 69 sq. km.
–  GIFT City is on the verge of becoming the financial capital of India instead of Mumbai
– 5 tourist spots – SOU, Ambaji, Dharoi, Gir-Somnath, Dwarka Shivrajpur Beach to be developed with Rs 8,000 crore of expenditures
– Yatradham Corridor to be established to boost tourism in Dwarka
– Investments worth Rs 1.5L cr of investments expected in semiconductor sector in Gujarat
– Apparel, Ceramic, Bulk Drug Parks to come up in Gujarat to boost industry, give better infra support
– Betterment of farmers – our govt's key focus. To improve investments in agriculture fisheries and animal husbandry, various initiatives have been taken.
– New Airport to come up at Dwarka, Keshod Airport to be revamped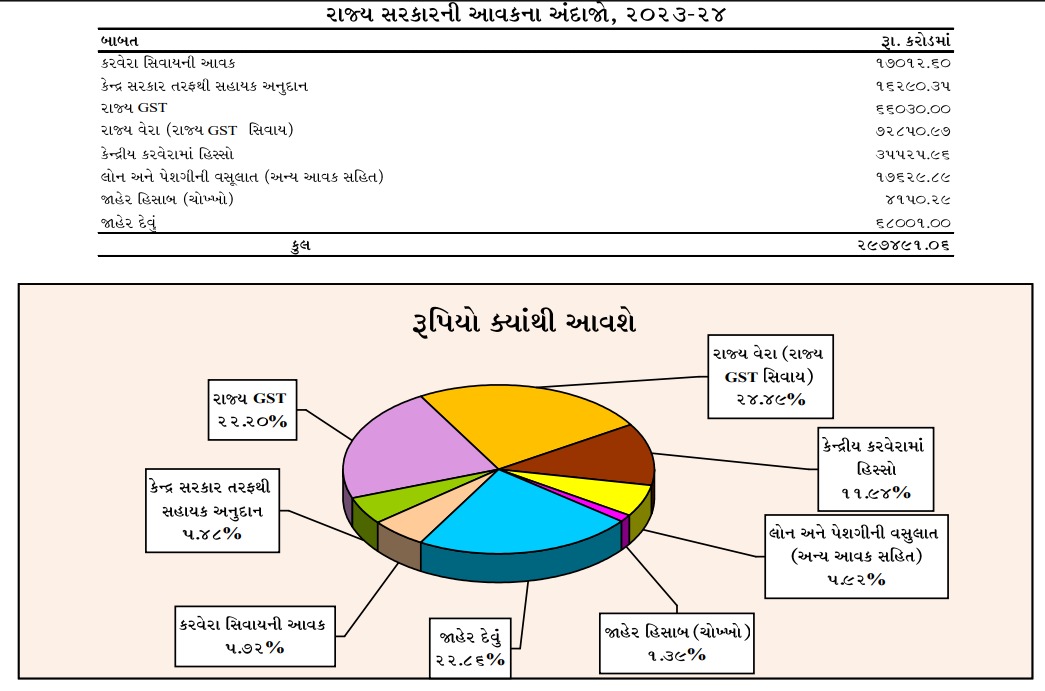 – Renewable energy contribution to be raised to 42% in Gujarat's total power generation.
– 50,000 new classrooms to come up across the state
– 20,000 new computer labs to be set up in Schools across the state
– Rs 4,200 crore – World Bank Loan – to be utilised for new schemes for healthcare infrastructure
– 85 lakh beneficiary families covered under PMJAY-Ma Yojana to get Rs. 10 lakh worth free medical care instead of Rs. 5 lakh at present
– Mukhyamantri Shramik Basera Yojana announced
– Shramik Annapurna Yojana to be expanded to new 150 places to provide meals to labourers for Rs 5
– Family identity card
– 4 lakh crore for human resources
–  Shri Anna to be accommodated at fair price shops
– Gujarat govt to spend Rs 2 lakh crore in next five years for betterment of poor people
Gujarat budget to be presented today shall be a vision document for next five years. It will be about making a glorious Gujarat and VishwaGuru Bharat through Independent India's journey from 75 to 100 years. It will offer relief to all sections: Gujarat Govt Spokesperson Minister

— DeshGujarat (@DeshGujarat) February 24, 2023
Finance Minister Kanubhai Desai to present the annual budget of Gujarat for financial year 2023-2024 shortly; The elements of Gujarat budget 2023-2024 and packing of it – pic.twitter.com/7Q7FWFd2ev

— DeshGujarat (@DeshGujarat) February 24, 2023